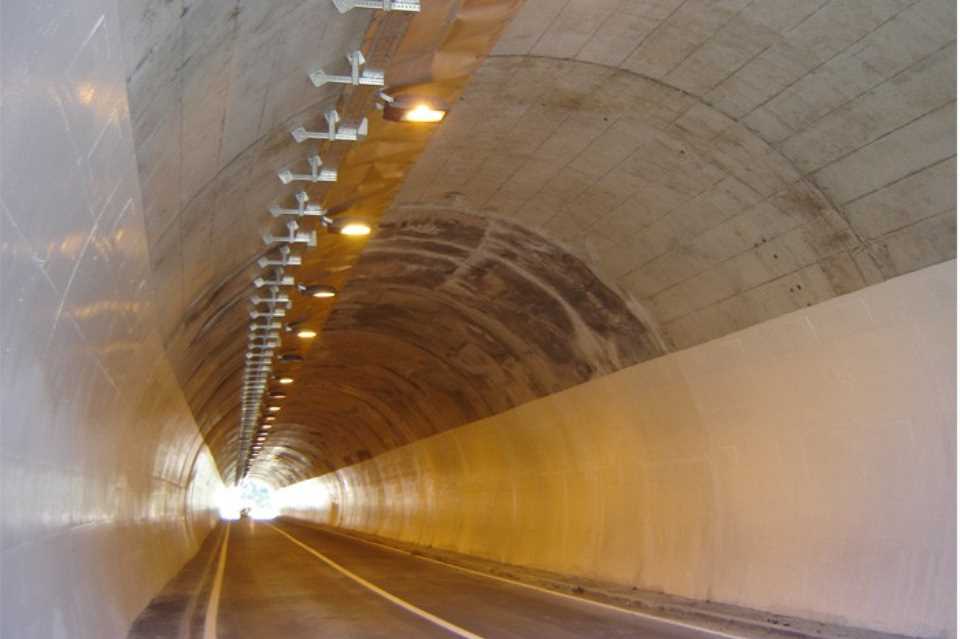 The works has consisted of:
Tasks of rehabilitation of degraded stretches of concrete tunnel lining located in the area closest to the mouth west.
Treatment of fractures and damp areas active at any point of the facing.
Installation of a lighting system in the tunnel key.
Painted gables.
Treatment of the slopes on the west face.
General cleaning of the tunnel.
Tunnel length is 205 m. The section is horseshoe-shaped, with a perimeter of 18 m and a height covering key measure from the center of the firm of 6.25 m. The width of gable end to gable end on sidewalks is 9 m and width of sidewalks varies between 0.7 i 0.8 m. The concrete lining is reinforced and has a variable thickness around 30 cm. As noted, there is no type of waterproofing sheet between solid and coating. Not observed if applied on the cave a hold gunite minimum primary by dry way, but there seems to be.
On the sidewalks have STA pipes and NASA power supply (20,000 V. no drainage pipes on the sidewalks. Canalitzaciones no drain .
The floor of the tunnel is excavated in rock and has a minimum regularization filled with debris and aggregates from the same excavation. No basal drainage layer type.